Can I Buy a Volkswagen Bus?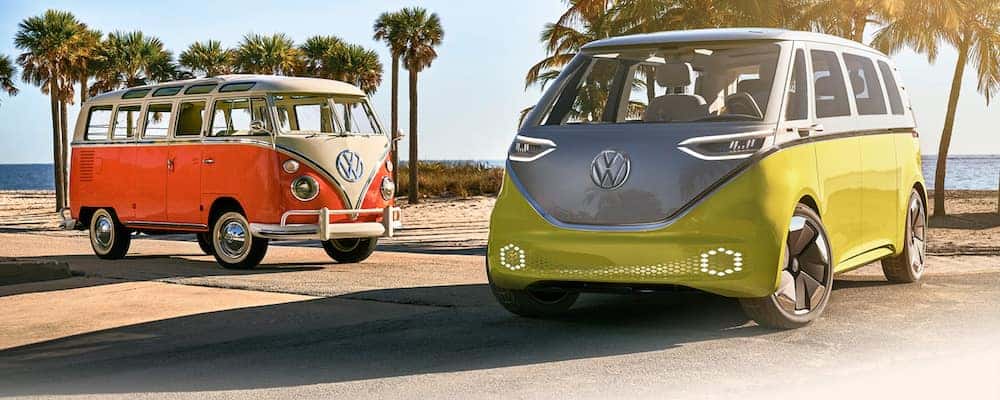 If you're searching for a Volkswagen Bus for sale, it can be best to search out a vintage car seller in your area. Found one for sale online? You'll want to bring it to a mechanic that has experience with the VW Bus, as they can have unique concerns. Find out more about the history and future of the Volkswagen Bus by contacting Auffenberg Volkswagen, serving Madison and beyond.
Rent a Volkswagen Bus
Renting a Volkswagen Bus can be a great way to enjoy the classic style of a VW Bus without the maintenance and general upkeep. Just search for "Volkswagen Bus Rentals Near East St. Louis" to see if any vintage car rental agencies near you offer them. Keep an eye out for the following variations:
Volkswagen Bus Tent
Volkswagen Camper Van
Volkswagen Hightop Camper Van
Volkswagen Type 2 (T1) Microbus
Volkswagen Type 2 (T2) "Bay Window" Bus
Volkswagen Samba-Bus or Deluxe Microbus
Volkswagen Westfalia Camping Van
Many of these models have been customized for camping with sleeping berths, stoves, water tanks, and more. They're a great vehicle for outdoor adventures near Madison with added vintage flair.
History of the Volkswagen Bus
The first Volkswagen Type 2 Microbus was introduced in 1950. This model is what most people think of as a classic VW Bus. It used a Volkswagen air-cooled engine in the rear of the vehicle, and the original model had a classic split windshield design.
Different variants were produced, and collectors commonly distinguish them by the amount of windows. The Volkswagen Samba, for example, is also known as the 23-window model, the most windows offered in a VW Bus. However, in 1964, a tax on vehicles like the bus causes prices to increase and sales to drop. Many later models weren't available in America.
Is the Volkswagen Bus Coming Back?
Volkswagen has recently announced that an electric VW Bus is planned for 2022. This vehicle is based on the I.D. Buzz concept which uses VW's Modular Electric Drive kit.
The 2022 VW Bus is planned to use the same platform as an upcoming electric VW SUV. It's based on the I.D. Crozz concept on display at recent auto shows.
The I.D. Buzz concept (pictured above) offers a 300 mile driving range and can recharge up to 80 percent in 30 minutes with the VW fast-charge system.
While the innovation and engineering is new, you can expect classic styling and even a front trunk.
The I.D. Buzz concept offers a variety of seating configurations, making the new VW Bus a compelling option for large families.
Turn to Auffenberg Volkswagen for Current VW Models
If you're looking for a new Volkswagen with plenty of room, Auffenberg Volkswagen offers the new VW Tiguan and VW Atlas. Contact us at (618) 622-4517 for more information, or stop by our showroom near Caseyville!
There's a reason why the Volkswagen Jetta has been one of the favorite sedans in East St. Louis for years. One reason is the Volkswagen Jetta interior. Loaded with the features you want, incorporated into a sophisticated interior, the Volkswagen Jetta makes every commute from Madison comfortable and easy. Take a closer look at the Jetta interior…

SUV fans in East St. Louis who follow the automotive press already know that the 2021 Volkswagen Atlas reviews have been excellent. With its 2.0L Turbo engine and redesign for 2021, VW Atlas reviews and drivers alike are fans of this SUV. Take a look at some VW Atlas consumer reviews and automotive press highlights, and then…

East St. Louis drivers in the market for a spacious and sophisticated sedan should highly consider the 2021 Volkswagen Passat. This perennial favorite has been designed with comfort and convenience in mind. From its ample legroom to its advanced tech features, no detail has been missed. Explore the Volkswagen Passat interior below before stopping by Auffenberg Volkswagen for…