Why is My Car Leaking Water?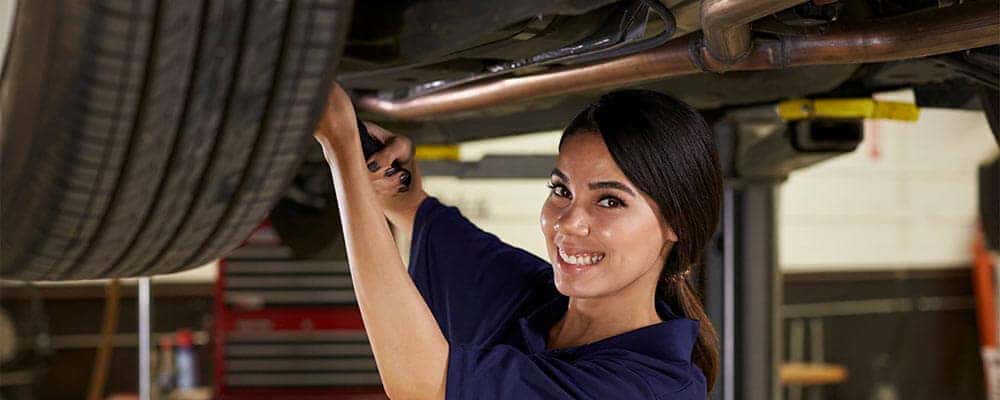 If you see a puddle under your car — either under the engine or the tailpipe — it's rarely cause for concern, but it's good you were paying attention! A keen eye for potential leaks is how you keep your car running smooth around East St. Louis.
It's pretty normal to see water puddle from exhaust condensation or from running your air conditioning, but you should always make sure it's water, as other liquids can point to a serious problem. And if you're worried, you can always stop by the Volkswagen service center at Auffenberg Volkswagen in Shiloh.
Finding the Cause of the Water
If your car is leaking water, it's good to know that it's not from anywhere serious; here are some tips for finding the cause:
First, be sure it's water. Place a sheet of paper under the car to catch some drops. If it's blue, green, yellow, or red, you could have a more serious problem on your hand. If it's clear, we can move to the next step, if not, you should see a service tech.
If more than a small amount of water is coming from your exhaust, there could be a blown gasket that might cause coolant to burn along with fuel, which results in large amounts of water and white smoke leaving your exhaust.

A cracked windshield wiper fluid reservoir could be the culprit, especially if you've ever tried to use water as wiper fluid — it can and will freeze in the winter, expanding and possibly cracking the reservoir. Wiper fluid leaks can usually be found by the front tires.
If the cause is anything other than condensation, it's worth visiting Auffenberg Volkswagen near Caseyville.
What is Leaking from My Car?
What if it's not water? We have a quick guide to identifying fluids dripping on your Madison driveway:
Dark Brown – Brake Fluid or Older Engine Oil

Light Brown – Newer Engine Oil or Gear Lubricant

Red – Transmission Fluid or Power Steering Fluid

Orange – Transmission Fluid or Radiator Coolant

Yellow – Radiator Coolant

Green – Antifreeze from Water Pump, Hoses, or Radiator

Blue – Windshield Wiper Fluid

Pink – Power Steering Fluid or Transmission Fluid
Wondering why your car is overheating? Leaking coolant could be the cause of the problem.
Visit Auffenberg Volkswagen in Shiloh for Service
Auffenberg Volkswagen is happy to help customers from Caseyville and beyond identify the source of any leaking fluids. Remember, regular Volkswagen maintenance can help you stop small problems in their tracks, saving you plenty down the road. Contact us today with any questions.
Still learning? Continue your research by finding out how long tires last, or learn what the VW EPC warning light means.
Getting stuck on the side of the road near East St. Louis or blowing a tire on the way to work in Madison can be more than an inconvenience: it can be downright scary. The last thing you need to worry about is what to do next, and with Volkswagen Roadside Assistance, you don't have to. Enjoy…

Schedule Service If you see a puddle under your car — either under the engine or the tailpipe — it's rarely cause for concern, but it's good you were paying attention! A keen eye for potential leaks is how you keep your car running smooth around East St. Louis. It's pretty normal to see water puddle from…